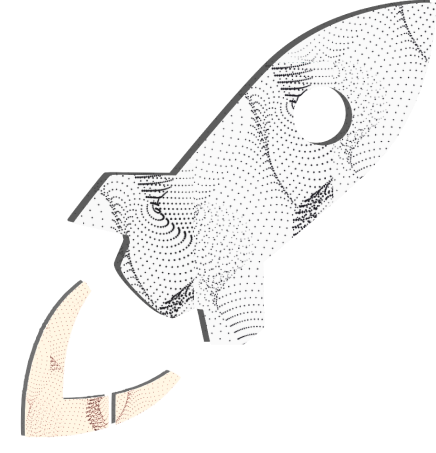 WHAT WE DO
At Crater Labs, we make moonshots possible and profitable – one data point at a time
A "moonshot" is an exploratory and ground-breaking project that relies on advanced technology and "out of the box" thinking to accomplish.

Through the power of AI, machine learning and our multi-disciplinary team, we enable our clients to take "moonshots" and successfully overcome key business challenges.
We specialize in building bespoke solutions designed to derive insights, automate internal processes and predict future demand.
We integrate seamlessly with your existing teams, handover all rights to the IP produced and ensure a strong return on your investment with every project.
OUR OFFERING
We help our clients in the following ways:
Custom AI/ML Solutions
We conduct AI/ML-driven research, developing and deploying custom solutions designed to successfully address key business challenges.
Learn More
Building & Augmenting In-House Teams
We can help you setup and launch your in-house data science team or support your existing capabilities with industry-leading AI/ML researchers.


Learn More
GUARANTEE
Our Offering Ensures:
Strong ROI
Our solutions are designed to produce a return on your investment within the first year.
Easy Integration
We integrate seamlessly with your internal systems, processes and teams.
Your Intellectual Property
You own and control the rights to everything produced as part of each project.

CASE STUDIES
Moonshots Worth Celebrating
TESTIMONIALS
What our Customers Say about Us
"Working with Crater Labs was an exciting and eye-opening experience. Their team was able to quickly and successfully identify, develop and implement a solution that has expedited our internal processes and had a positive impact on our bottom line."

Resolver
"Their ability to apply AI and machine learning to solve key business challenges is unrivaled. The entire process and project were much easier than I had initially envisioned, with the team producing a ground-breaking solution that's delivered a strong ROI to date."
Pong Game Studios Corporation
"Crater Labs is devoted to providing great customer experiences that drive meaningful results with every project they tackle. Their investment in high-performance computing infrastructure allows them to create a lasting competitive advantage for their customers. We're looking forward to further collaboration and success in the years ahead."
Pure Storage
Let's Lift Off Together
We use deep learning models to bring your business's competitive advantage to the next level.